Knowle West may be known for its sprawl of red-brick social housing. But the estate, which sits above Bedminster on a raised plateau, should also be celebrated for having some of the best green spaces in Bristol.
The Northern Slopes, a nature reserve just to the north of Knowle West, has spectacular views across the city. As does the Western Slopes, a nature haven that forms the western boundary of the South Bristol council estate, which Avon Wildlife Trust describes as a "vital wildlife corridor". Meanwhile Filwood Playing Fields, in the south of the estate, is protected by a trust and provides important play space.
But recently, much of the green space that has been central to the identity of Knowle West since it was created in the 1930s has come under threat. To the fury of local residents, hundreds of whom objected, developer Lovell Homes applied to build 157 homes on part of the Western Slopes – though its plans now seem highly unlikely to proceed.
Meanwhile plans for a further 34 homes on part of the Northern Slopes have been approved in the face of opposition. There are also concerns about an £8.4m youth centre proposed on green space in Knowle West.
Community efforts to come together and fight for green spaces at risk of development have gained deserved media attention.
But at the same time, new community gardens have been created at previously neglected sites – which is fitting, considering much of Knowle West is built around garden city principles, with comfortable houses separated by green space and trees. The Cable visited three such green spaces, which have been revitalised thanks to recent community action.
From dumping ground to community garden
As you enter cul-de-sac Belfast Walk, you do not expect to find an entrance to a hidden garden.
The Knowle West Community Garden is on land sandwiched between three streets, opening at the end of July 2022, after a local residents group took just months to transform the former dumping ground.
A path takes you around the site, which has a fish-filled pond as its centrepiece, with fresh fruit and veg growing all around it.
Carol Casey, the interim chair of Filwood Residents Association, says she thought it was important to create the garden to prevent the site from being developed.
"Mental health issues are huge on this estate – the community garden gives space for people to go unwind, and also to learn new skills."

Carol Casey, Filwood Residents Association
"It's a space that can be used by children and adults with clean air, and there aren't many of them around the area now," says Carol, who was born and raised in Knowle West.
The site at Belfast Walk had been neglected for years, and was an overgrown mess when the residents association took it on at the end of 2021.
Now though, it is a wildlife haven full of fruit trees, which have been planted in memory of local people who have passed away.
Nor is it the only local green space that Carol has been involved in safeguarding. Twenty years ago, the local campaigner successfully fought for Filwood Playing Fields to be protected by a trust, meaning it can't be built on. She also set up the Let's Grow Community Allotment when she was chair of Knowle West Health Association in 2012.
For Carol, the positive impact green space can have on wellbeing is why it is so important in Knowle West. "Mental health issues are huge on this estate," she says. "It gives space for people to go unwind, and also to learn new skills."
Returning land to historic use
A medieval tower stands proudly above the community garden at the back of the Inns Court Community & Family Centre.
"It's a beautiful spot, and I just thought, it's crying out to be nurtured," says horticulturalist Chris Boddington, who, with a team of volunteers, has created the Inns Court Kitchen & Wildlife Garden.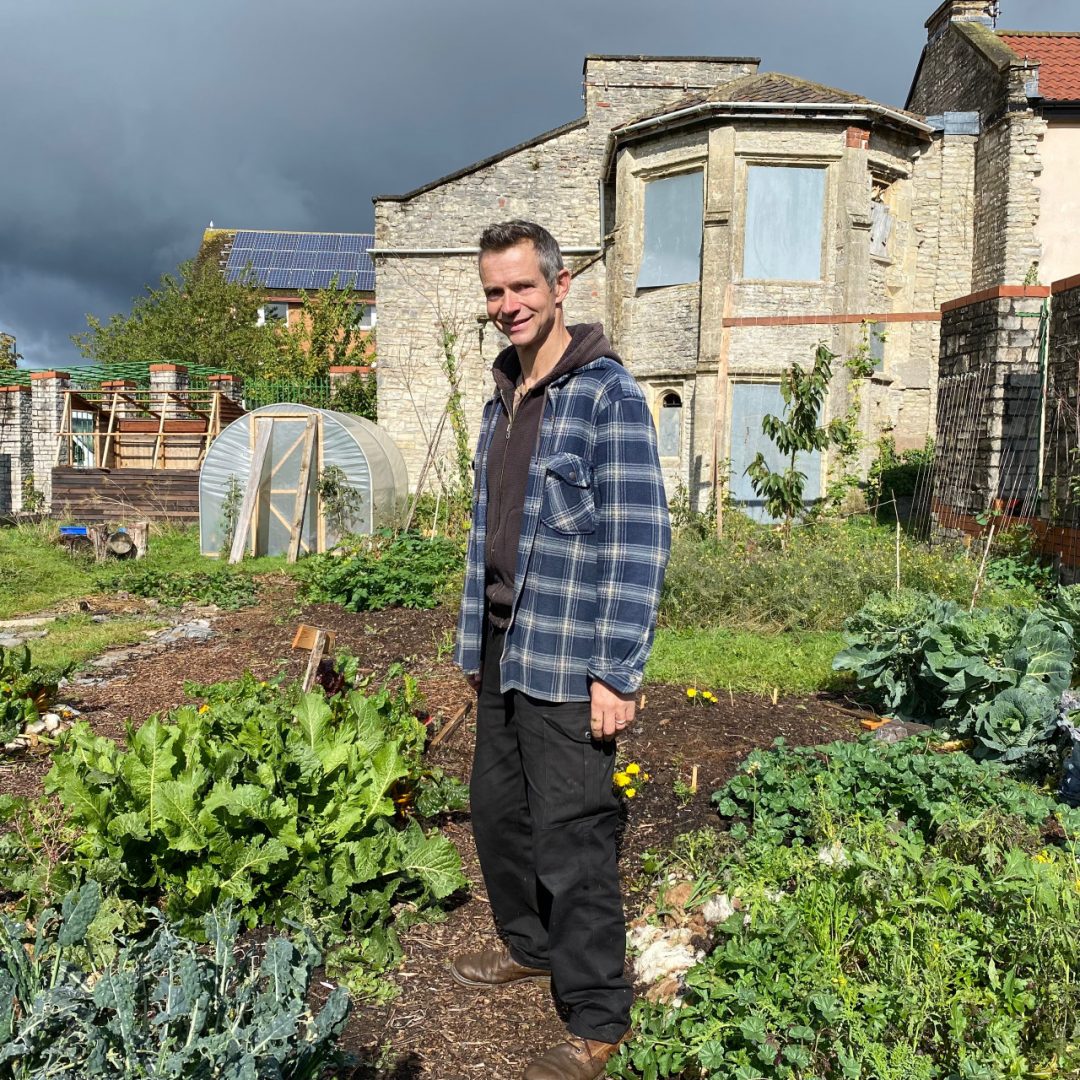 Grape vines climb up pillars in the garden, a greenhouse is full of tomatoes and a potting shed is in the making.
Every week, the garden is used by both a men's and a women's group – and it has also started to be used for vocational courses.
"The whole idea is that volunteers come along, do as much work as they want to, enjoy the sociable side of it and get some produce to take home," Chris continues. "We live in a very alienated society where people are separated from each other, and round here it's hard to get healthy food as well."
Gardens such as Inns Court go beyond just addressing the difficulties people can face accessing fresh produce, he adds. "You cut out all that transportation, all that packaging – we're growing organically, there's no pesticides."
Before the area at the back of the centre in Inns Court was transformed in March 2021, it was full of overgrown grass and weeds. But now it is enjoyed by local people as much as it is by wildlife including bees, beetles, and butterflies.
"Everybody needs reasons to get out of their house and mix with other people, and this is what the garden is all about," Chris adds.
The 15th-century stair tower that looms over the garden was once part of a manor house when the Inns Court was farmland. So it is fitting that food growing is happening in this area again, as it would have centuries ago.
'A hands-on approach is really valued'
As you look across the Let's Grow Community Allotment, you are greeted with an outstanding view of Bristol.
At the end of last year, it was unclear what would happen to this beautiful spot, after the charity that ran it, Knowle West Health Association, said it could no longer afford to do so.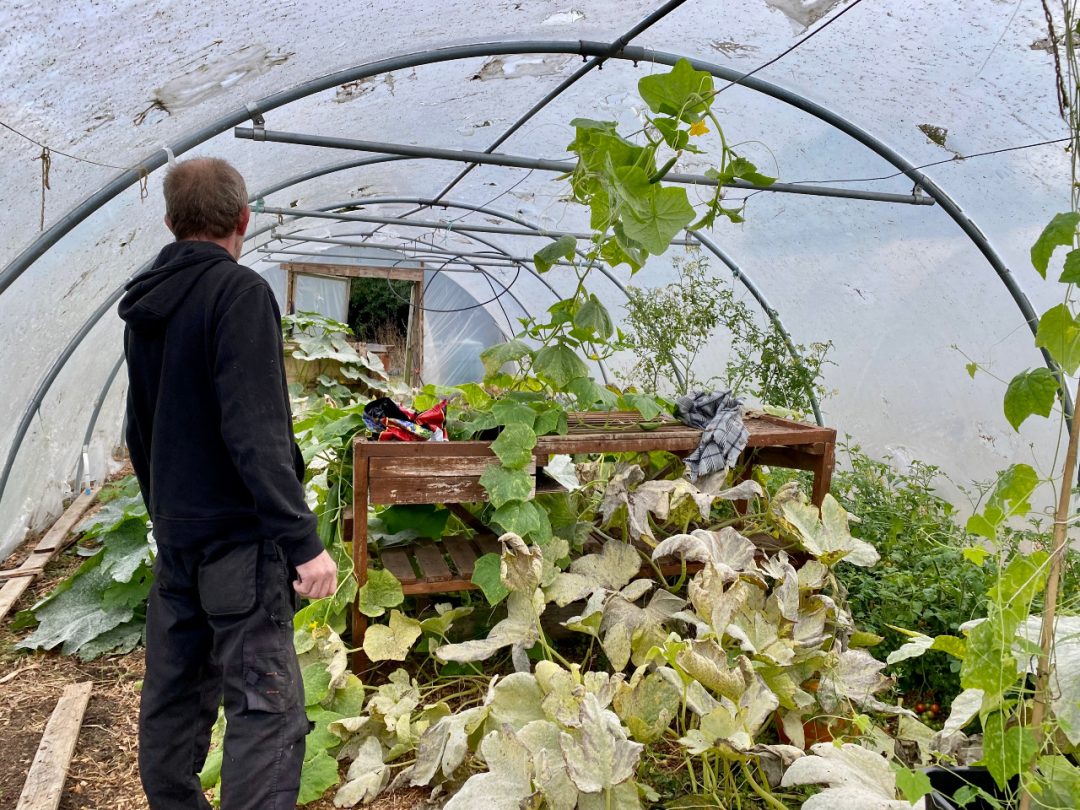 But fortunately, the Knowle West Alliance, a collective of local residents and organisations, came together to save the space and took it on in June 2022.
Since then, the Alliance member organisation re:work and a local family of volunteers have been making the site safe again.
In September, local people were invited to see what has been done to the site, and it has been transformed from an overgrown space into a food-growing paradise.
It includes three large polytunnels, one of which is currently full with pumpkins for the autumn season. There is also a chicken in part of the allotment, which will soon be joined by some friends to provide fresh eggs for the community. And there are plans to restore an old pizza oven so it can be used for cookery classes.
"The community allotment is a tranquil and beautiful place," Lucy Holburn, network development manager for the Alliance. "It offers something special in the heart of the city, amazing views and a place to just be. We know how much it means to a lot of people who have used it over the years."
Lucy highlights the fact that a number of local green spaces are being saved in the area as a result of positive community action. She adds: "People can just get on with it, and I think in Knowle West that hands-on approach is really valued."
Let's Grow first opened in 2012 and is part of the wider Springfield Allotments site, which is made up of 38 plots.
"Knowle West was designed as a garden city [where] people had the opportunity to grow their own in big gardens – that spirit still exists and green spaces like Springfield offer opportunities to connect with nature, growing and community, so those skills get shared," Lucy continues.
The site is also part of the Northern Slopes, three areas of green space with meadows, hedgerows and woods. A group of local people, the Northern Slopes Initiative, maintains, conserves and enhances the space. Lucy Wyatt, the Initiative's chair, says: "It's a vital green space for wildlife and people now, but the more we can do, the better we can make it."