After a meeting with Rent Strike Bristol, the university has delayed passing on the debt onto private company STA by a month, but are refusing further concessions.
Main photo: Lucy O'Neill at Epigram
The University of Bristol has announced that they will use private debt collectors from June, after months of rent being withheld by students as part of the Rent Strike Bristol campaign.
Students had been promised 'blending learning', a mix of in-person and online teaching, when signing tenancy contracts. This did not happen; students were locked down in halls and most have either received very little in-person teaching, or none at all. For a degree that could effectively be studied from home, 1,400 students paying expensive rent turned to the strike to voice their demands in December 2020, in the largest rent strike in the country.
After Christmas, government guidance was for students to not return unless they had to, with only an estimated one in three freshers living in halls by March 2021,leaving many paying for rooms that they were not living in.
Although student rent strikes have been occurring all across the UK, Bristol is the first university to pursue private debt collection. Following a meeting between Rent Strike Bristol (also called 'Bristol, Cut the Rent') and the University on 14 May, the university confirmed that the debt collection procedure will begin on 14 June, a delay of roughly a month.
Normally, the procedure at the university means debt is held for 12 months before moving to a third party. However, the first instalment of rent was due on 24 October, meaning that the procedure will begin just over four months prematurely.
The strikes so far
The rent strike for the 2020/2021 academic year is not the first one to take place at the University of Bristol. Campaign group, 'Bristol, Cut the Rent' first launched in 2016, holding a rally in 2017 with 150 students withholding rent. The campaign was relaunched in 2018 after a year's break. In 2019, students won £250,000 in rent cuts, bursary increases and compensation, following another rent strike of 150 people.
In 2020, through the Bristol, Cut the Rent group, students organised a rent strike of 130 tenants through the student letting agency Digs. Due to the impact of Covid-19, in-person teaching ended on 18 March, meaning many students were paying rent for properties they were not living in. As a result, they demanded a cancellation of their final rent payments.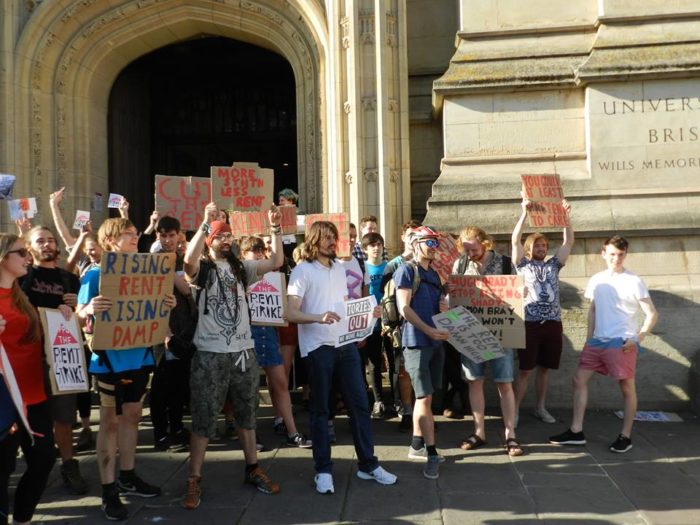 By December 2020, 1,400 students had pledged to strike, making the strike the largest in the country. The demands of Rent Strike Bristol were: No repercussions for rent strikers, no penalty contract releases – and deposit refunds for anyone who wished to move out of halls – 30% rent reduction for all students in halls, and demands surrounding students in self-isolation, including improved mental health services.
In November, the university planned to deduct bursary money from those on rent strike. In an email addressed to first years, the University's Student Funding Office said money was to be deducted from 'some, or all' of student's bursaries to pay for any rent owed by 26 November. At the time, there was believed to be almost £1 million worth of rent being withheld from the university. The decision, which received a lot of backlash, was dropped after discussion with Bristol's Student Union.
Due to the pressure of the strike and meetings between campaigners and the university, several rent rebates have been won as a result of the strike. These include a 10-day rebate in December, as well as 30% off for all students during the third lockdown between late December and February, and then a full rebate for students not living in halls in February and March.
A case-by-case no-penalty contract release policy for students who want to leave their accommodation has also been won. For instance, international students who weren't able to come to Bristol before 26 November due to travel restrictions can get their deposits back. For financial support, £350 was also given to Care Leavers, Estranged Students and any students receiving the Accommodation Bursary.
Nonetheless, the full demands are yet to be met. If a student obtained all the rebates so far, it would add up to a 25% total reduction. But this figure is significantly lower if a student did not get any money back from the February-March rebate.
Student strikers have faced increasing pressure in 2021 to pay their rent. In March, warning emails and phone calls were sent to students with accounts in arrears by the University's Accommodation Office.
'An aggressive push from the uni'
The university has now ramped the pressure up with the decision to move to third party debt collectors STA International after the exam period. This move has significant financial and reputational implications for both students and the university itself.
The cost to the university is estimated to be 10% of the total arrears plus VAT, meaning that the university will lose out financially due to the cost of the collection company.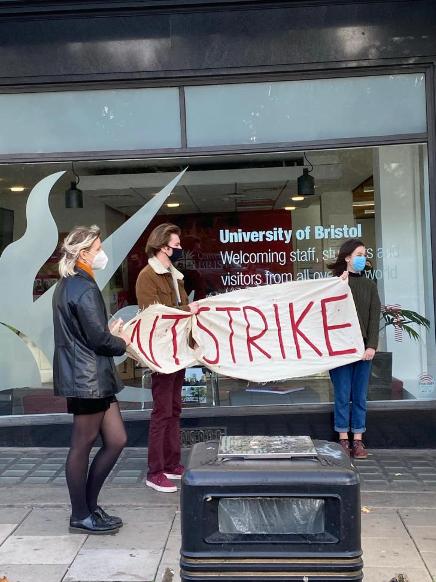 Benjamin Wyllie, a participant in the rent strike, told the Cable: "I am continuing to rent strike because we haven't received everything we were promised in our tenancy agreement. For example, facilities such as bars and social spaces haven't been available for student access. Furthermore, throughout the whole of this academic year my flat hasn't had heating, even after making several complaints to the maintenance office.
"In addition, throughout the first teaching block the WiFi connection in my room was nowhere near strong enough to participate in my live studies. There have been multiple occasions where I have been kicked out of online lectures due to poor connection and this in turn has definitely affected my work".
For students, the potential financial impact is a particular point of concern. Alice, another Rent Strike Bristol participant, said: "Having an outside company potentially affect our finances and credit score is really scary. Financially being a student this year has been really tough – jobs are hard to find and the university threatening this action is upsetting."
Get our latest stories & essential Bristol news
Sent to your inbox every Saturday morning
Louis Holmes, a rent strike organiser, added: "I think this move from the uni represents a callousness towards the wellbeing of students, something I didn't expect when coming to university. Students are heading into exam period and the last thing they need is the uni messing up their communication and distressing us all.
"Furthermore, we've been routinely promised that rent strikers would not face adverse punishment for our protest against the university's handling of Covid, yet this move is an aggressive push from the uni to frighten us into paying."
The university's response
In solidarity with the rent strikers, several staff nominees at the University of Bristol have called for their teaching award nominations to be rescinded following the University's latest actions.
Following a meeting between Rent Strike Bristol and the university on 14 May, the university agreed to delay passing on student debt to private company STA until after the exam period (14 June), but have continued to refuse any final concessions. These would involve meeting the initial demands of the rent strike, such as the 30% reduction for all students.
In response to the meeting, Louis Holmes added: 'University management seemed unwilling to accept their mistakes in regards to communication with students and tried to put responsibility on the rent strike to help."
"Representatives from the strike emphasised our willingness to negotiate yet the university felt no need to budge and seemed content with letting debt collectors get involved, knowing that students would be the ones to incur the costs of this process, which was even worse than we first thought as we thought they would accept the cost of going to debt collectors. Management truly seems completely callous about the demands of students."
A University of Bristol spokesperson said: "We do not make a profit from student rent and all accommodation fees are used for operating, maintaining and improving our halls of residence. This includes 24/7 pastoral and wellbeing support.
"Recognising the impact the pandemic has had, we have offered students rebates which are the equivalent of a 25% reduction in rent over the duration of their tenancy. We believe this to be one of the most significant rebates across the university sector and it is significantly more than students living in private rented accommodation have received.
"The overall package of additional Covid-related support for students in halls up to the end of March will total over £16.5 million. We have regularly reminded students what support is available and have encouraged them to get in touch if they're having any financial difficulties. Payment dates and the debt collection procedure are outlined in their tenancy contract.
"Our hardship funds are uncapped and available to all students, regardless of landlord, during this challenging period. We know that this has been a difficult year for students and their wellbeing remains our top priority. Our mental health and financial services are on hand to support all students – and we continue to urge anyone in need to get in touch as soon as possible."