Illustration: Roshi Rouzbehani
"I was in a relationship for almost 10 years – looking back, it was textbook stuff, starting small, taking my independence away from me little by little," Abi*, a survivor of domestic abuse, tells the Cable.
"It was very manipulative behaviour, and within that there was drug abuse as well," she goes on. "When I met him, he was a drug dealer – I hadn't really touched drugs before, and then that became a focus of the abuse, because I had an addiction and that was within his power to control, along with everything else in my life."
A period during which Abi's abuser imprisoned her in their home, contributing to her experiencing psychosis, led to her seeking specialist help around her mental health and substance use. After several years, she recalls, "I managed to pluck up the courage to see the situation for what it was and leave," with her support workers accompanying her to Bristol City Council's homelessness services.
But this was not the end of Abi's nightmare. The first time she approached council officers, she says, the experience of being interrogated about her situation and personal issues, to assess whether she was owed a duty of housing, felt so shaming that she went back to her perpetrator.
When she returned a few days later "with a bit more backbone to fight my corner", Abi was eventually offered a hostel bed, based on her history of drug use.
"I'd stated clearly that I wanted to be placed in a women-only hostel, which they did," she explains. "But right next door was a men's one, and the two hostels were like crack houses – I didn't sleep pretty much the entire time I was there."
Homeless women's 'near-universal' experience of abuse
Mercifully, Abi's hostel stay ended when a bed in a safe house for women with complex needs, run by the local charity Next Link, became available. "I just remember the relief, opening the door and feeling like I could take a breath," she says.
Had she approached the council this autumn, Abi might have been able to take that breath without first being put through an additional ordeal.
In October, a 10-bed 'respite room' facility opened in Bristol to offer immediate safe spaces to women who have experienced domestic abuse but also violence, rape or sexual assault, sex work or exploitation, and who are sleeping rough or at risk of doing so.
The rooms – part of a £3.7m, year-long government trial across 12 boroughs – will be available 24/7, staffed by women able to offer trauma-informed support around intersecting needs such as substance misuse, mental health and issues relating to migration and trafficking.
The project was announced in March's budget, shortly before the Domestic Abuse Act 2021 (see box) became law. It comes amid rising reports of domestic abuse during the pandemic, and increasing recognition that situations like Abi's are, horrifically, not uncommon.
A major review of homelessness and rough sleeping led by ex-civil service head Sir Bob Kerslake, published last month, cited research findings that the experience of violence and domestic abuse among women who become homeless was "near-universal".
"This connection between violence, abuse and women's homelessness is reinforced by international evidence," the Kerslake Commission report continued. Yet with women making up only around 14% of rough sleepers – being more likely to be among the uncounted 'hidden homeless' sofa-surfing, sleeping on buses or exchanging sex for shelter – too few support services are set up with their needs in mind.
Support from Cable members enables us to shine a light on vital support services, and give a platform to people at the sharp end of violence and injustice. With your help, we can keep exploring solutions like this, and help make our city safer.
Help build a media committed to people, not profit.
'A life-changing benefit'
"Here in Bristol, there hasn't been an immediate space that will accept women of multiple disadvantage, who are fleeing violence – [most] refuges are unable to accept women with complex needs," says Ally Rush, a manager at homelessness charity St Mungo's, a partner in the scheme with Next Link. Women can "fall through [service] gaps", she says.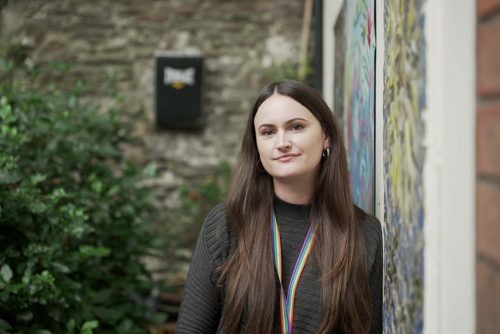 While Rush will not be working directly in the new respite rooms, she previously helped run a project in Westminster – the Green Room – which provided the template for the national scheme.
"If we had a referral [to the Green Room] and could see that person was in need of shelter and in a dangerous situation, fleeing the perpetrator, we would accept it," Rush says.
"We wouldn't say, 'Actually there's no evidence they're homeless' because often the person might be still living with the perpetrator," she adds, alluding to situations like Abi's.
The Green Room established groups and drop-ins to make it easier and safer for women to access the support they needed. "If they wanted to go and get scripted, for example, at a local drug and alcohol service, they might be in fear of running into their perpetrator there," says Rush. "[Not having to do so] was a real, life-changing benefit."
In Bristol, says Asher Craig, the deputy mayor with responsibility for children's services, education and equalities, the council – which commissioned the respite rooms – and its partners have been asking abuse and violence survivors to help plan the support on offer.
"Their experiences are central to our developing the appropriate levels of support needed," Craig says. "A new survivors' forum feeds into the work we're doing, helping us shape programmes and interventions."
Using £1m funding linked to the Domestic Abuse Act, the council has also employed two independent domestic violence advisers (IDVAs) – who address the safety of victims of high risk of harm – within housing services, and delivered awareness training to other staff.
'The safe house was my ladder'
As with the Green Room, the aim of Bristol's respite rooms will not be to provide long-term accommodation. Instead they will offer women "a safe place [for a few weeks] to be able to work through their options, without having to constantly risk-assess because of the situation they're in", explains Sarah O'Leary, Next Link's chief executive.
While five of the 10 rooms are already occupied at the time of writing, it is hoped that up to 100 women can be accommodated over the course of the year.
"The idea is that they can move on to whatever accommodation meets their need – it could be via the homelessness pathway, it could be further specialist supported housing or refuge accommodation," O'Leary says.
With services already stretched and street outreach teams reporting small but consistent rises in the proportion of women among Bristol's rough-sleeper population, O'Leary says it is crucial the respite rooms provide a foundation for longer-term action, rather than being merely a brief pilot scheme.
"In our experience, women who receive support tailored to their needs, where their experience is understood, and they have autonomy to make their own choices, go on to thrive," she says.
Abi agrees, describing the safe house as "my ladder".
"That was the first step – I had somewhere, I felt safe and supported with all the things I had going on," she says. "It quickly became apparent that there were no judgements there – and that, for me, was a key aspect, to be able to just give all of my truth out. It was a really important part of my recovery."
*Not her real name