It's clear now that if England is chosen to stage the 2028 European football championships, none of the matches will be played in Bristol. They won't be played anywhere in the South outside the capital, in fact, but that's a different story.
And yet, there was a time when the city provided a welcoming home to the national side.
That was the case in 1899, when the opposition was Wales and the venue Bristol City's Ashton Gate ground – and it was most recently the case in 1913. In between times, the ground hosted a prestigious rugby league tour match, and a rugby union international that drew a crowd of 20,000.
This reflected Bristol City's growing reputation. Elected to the Football League in 1901, the Robins were Second Division champions five years later and finished runners-up in the First Division in their debut season. Then, in 1909, they reached what is still their only FA Cup final, succumbing to Manchester United by a single goal.
A very lively time
The 1913 match would also be against Wales, and it would take place on Monday 17 March. That was the beginning of Easter Week and, in Bristol at least, a very lively time.
Margaret Brooke, Ranee of Sarawak had just taken up residence on Royal York Crescent in Clifton, the Christmas pantomime was in its last few days at the Theatre Royal, and Edward Palmer was about to become the first person executed in the city for nearly a quarter of a century.
This was a full decade before the opening of Wembley Stadium gave the national side a settled home of its own.
Until then, England played matches all around the country – everywhere from Sunderland to Portsmouth, with Sheffield and Birmingham, Derby and Crewe in between.
The team was in a poor run of form, in fact, having recently lost to Ireland for the very first time. As a result, the side chosen by a Football Association committee, and then entrusted to the Bristol City trainer Dick Batten, was an experimental one, with seven members who had never played international football before.
The established players, meanwhile, included Harold Fleming, the Swindon Town forward. But of Billy Wedlock, Bristol City's captain, there was no sign.
Ashton Gate: less than salubrious accommodation
Born barely a corner-kick from Ashton Gate, Billy had been a key part of its success. He had also won 25 England caps in the last six years, but he was now sidelined by injury. His place against Wales would be taken by Joe McCall of Preston North End, one of the debutants.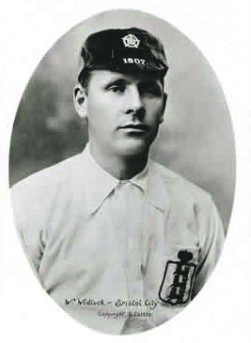 For the visitors, goalkeeper William Bailiff had once been with the Robins. And it was noted that 38-year-old Billy Meredith had taken part in the fixture the last time it came to Bristol, 14 years before.
The England players will have been impressed with the accommodation that had been found for them. They would be staying at the luxurious Clifton Down Hotel, on top of Sion Hill, overlooking the suspension bridge, where the other guests included the celebrated soldier and explorer Sir Ronald Macdonald.
But Ashton Gate offered a much less salubrious setting. Standing in the middle of a patch of scrubby ground in Bedminster, it was little more than a shallow bowl of terracing, with a few hundred seats down each side. There were no floodlights, so kick-off had to be in the afternoon. And at the suggestion of the Bristol City board, admission was reduced to sixpence from the shilling usually charged for England games.
There had been heavy rain overnight, and the game began in a storm that wouldn't let up until half-time. The 8,000 spectators could be seen huddled together under whatever shelter they could find, while up in the seats, the Lord Mayor of Bristol, John Swaish, was resplendent in his gold official chain.
Forever losing their footing
Wales won the toss and England kicked off, wearing their white shirts and navy-blue shorts, a bitter wind blowing in their faces. The foul weather had turned the pitch into a quagmire, with pools of standing water every few yards. The ball either stuck fast and refused to budge or simply skidded away, and the players were forever losing their footing.
It was the visitors, in their red, laced-up shirts, who struck first. Harold Fleming quickly drew England level, though, and the home side went on to score twice more before half-time. Their third goal came from Joe McCall, his long-distance shot finding its way through a crowd of legs. This brought an ovation from the terraces and praise for Joe in the following day's newspapers. Though Wales scored two goals after the break, England added a fourth and wrapped up the match.
The press wasn't, however, satisfied. The few hardy souls huddled together on the Ashton Gate terraces were compared unfavourably with the record crowd of 38,000 that had watched England last time out. And it was noted that on the same day as the Wales match, in equally filthy conditions, almost 60,000 people had packed into Newcastle United's ground for an FA Cup replay against Sunderland.
Well into his 30s by now, Billy Wedlock would add only one more cap to his collection. The 'East End' at Ashton Gate would eventually be named after him, as would the Star pub, which stood close by.
The ground would be used for England under-23 matches until the 1970s, and for under-21 games after that. In more recent times, it has seen a couple of women's internationals, with the Lionesses taking on Belgium in February this year, and, before that, Bosnia & Herzegovina in 2015. Yet, of all the places that have hosted the national men's side, only two, Nottingham and Portsmouth, have been waiting longer for a return visit.