"Not to get too grand about it, but I think, especially at the moment, people are starting to really think about pubs," says Sunny Paradisos. "They are really struggling, getting shut down, because of various factors."
Sunny and his partner Tara Clerkin are chatting to the Cable about their hopes to reopen one such pub, the Rhubarb Tavern in Barton Hill, which closed its doors early in the pandemic.
As the Cable reported last year, a few years ago you could find a handful of pubs within a short walk of the Rhubarb, which sits at the western edge of Barton Hill in the shadow of St Philips Causeway. All in this part of town are now gone – with some no longer recognisable as watering holes after being converted into flats.
But the couple, who also make music together in the Tara Clerkin Trio, hope to buck that trend – by reopening the Rhubarb as a space that can be enjoyed by drinkers and non-drinkers alike.
A crowdfunder to raise at least £35,000, which with less than a fortnight left has £15,000 still to go, sets out their vision to create "a place for music, community groups, workshops and affordable food as well as all the things we love about pubs".
Strong identity
The last time the Cable checked in at the Rhubarb, a group of local campaigners were battling to save the pub from redevelopment by its London-based owner Mona Mogharebi.
Her company Natan had submitted an application to redevelop the site into 14 flats – including eight in a new building in the garden – before withdrawing them in early 2022. They were replaced by an application offering the possibility of reopening a pub on the ground floor, while still converting upstairs rooms and building flats in the garden.
In January 2023, Tara spotted the venue being advertised to let while scrolling through Rightmove.
"We'd had the idea of running a space and I'd been looking occasionally to see what kind of stuff was available," says Tara. "We'd developed these ideas over years, chatting between us, and settled on a pub being the ideal place because it has such a strong identity in itself. It can then lend itself to being a bit of everything else as well."
While the pair had not previously been drinkers at the Rhubarb, they were familiar with the area having rehearsed at local studios. They were also aware of the pub's potential through friends – the team behind Strange Brew in central Bristol – who had used it to host events while crowdfunding to open their own venue.
The intervening four years have not been kind to the cavernous building, which when the Cable visits has gaping holes in both floors and ceilings – some the work of vandals, others the result of structural surveys.
"It's frustrating – the first time we viewed it, aside from repairing some plasterboard and minimal water damage, it seemed almost good to go," says Sunny. But after a group who had been squatting the pub were ejected, thieves entered and ripped out pipes and wiring, with sinks and toilets also now smashed.
Mogharebi has agreed to fix up "plumbing, electrics, roof and external walls", explains Tara, while money raised by the crowdfunder will go towards tackling more cosmetic issues.
Changing plans
Besides the repairs, the owner's intentions to convert the upper floors of the pub also initially seemed to present a potentially fatal obstacle to the couple's plans – which include live music downstairs, as well as artist accommodation and ambitions for a community music studio.
"There was a point at which we walked away – we did lots of sums and were like, it's not viable," says Tara. But Mogharebi subsequently offered the couple the whole venue, in which they also plan to live, on a 10-year lease, paving the way for the crowdfunder.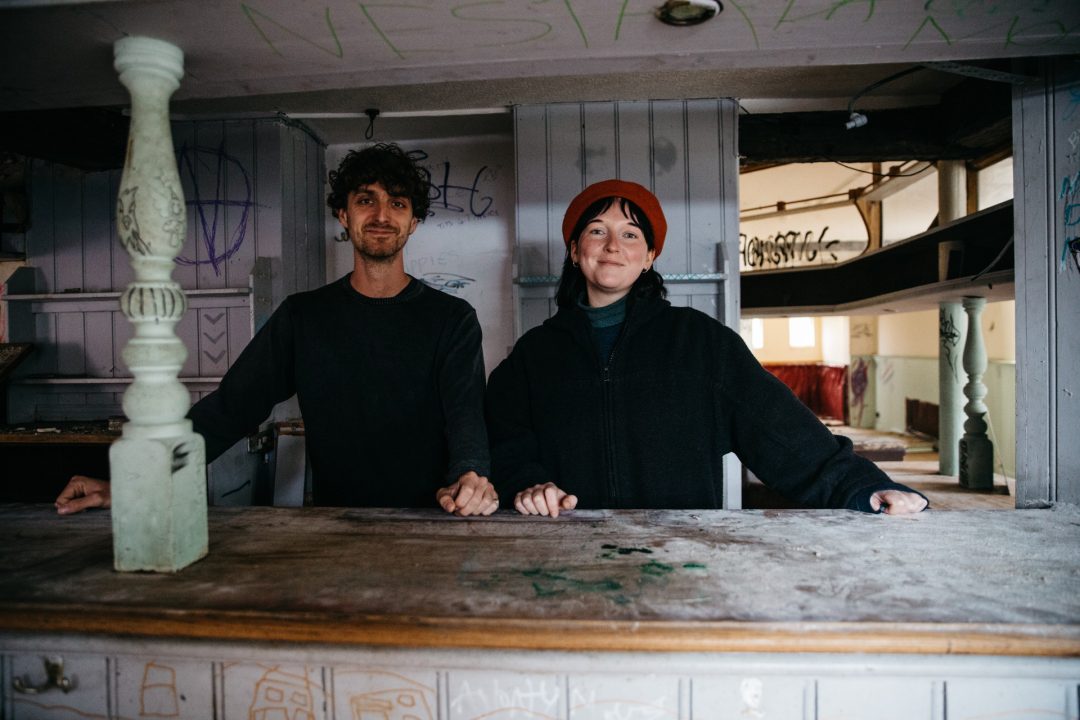 The final unresolved part of the puzzle is whether six flats will be built on a section of the currently overgrown garden, once part of the ancient rhubarb fields that gave the pub its name, as per the owner's planning application. Numerous objections have been lodged relating to the potential loss of a rare green space in a densely built-up area where other huge developments are planned, and to how building at the back of the Rhubarb could affect its viability.
The flats would have their own access off a side lane, and Tara and Sunny maintain a diplomatic brave face about the potential development. But it's obvious that retaining the space – which Sunny, an experienced gardened, has plans for – would benefit the pub.
Music mentorship
The pub's viability will of course also depend on buy-in from the varied local community, in an ethnically mixed and historically working-class district that has, like everywhere in Bristol, seen an influx of wealthier incomers.
Sunny is keen to emphasise that they will not only be catering to people still able to afford endless £6 pints in the teeth of a cost-of-living crisis.
"Because we're a free house we have options to keep costs [of drinks] down, which is really important," Sunny says. Aside from what goes over the bar, he and Tara have also discussed possible partnerships with the nearby Wellspring Settlement charity, which took over another closed Barton Hill pub – the Swan – to turn it into a youth centre.
"They won't have music facilities, but we want to set up a studio [at the Rhubarb], provide a big programme of music lessons and mentorship – we want to have opportunities for local people to come and learn those skills," Sunny adds. "We can do paid [sessions], free ones, and have a sliding scale with studio access and opportunities for people to put their own gigs on in the space.
"We'd love to help facilitate people being creative, making art and learning how to make a living out of it if they want to."
'Aligned visions'
Importantly, the couple have also got backing from the original We <3 The Rhubarb Tavern group.
"Their vision aligns pretty much exactly with what we in the campaign group had been wanting to get out of [the pub]," says Barton Hill resident Alexander Smith, who has led the campaign.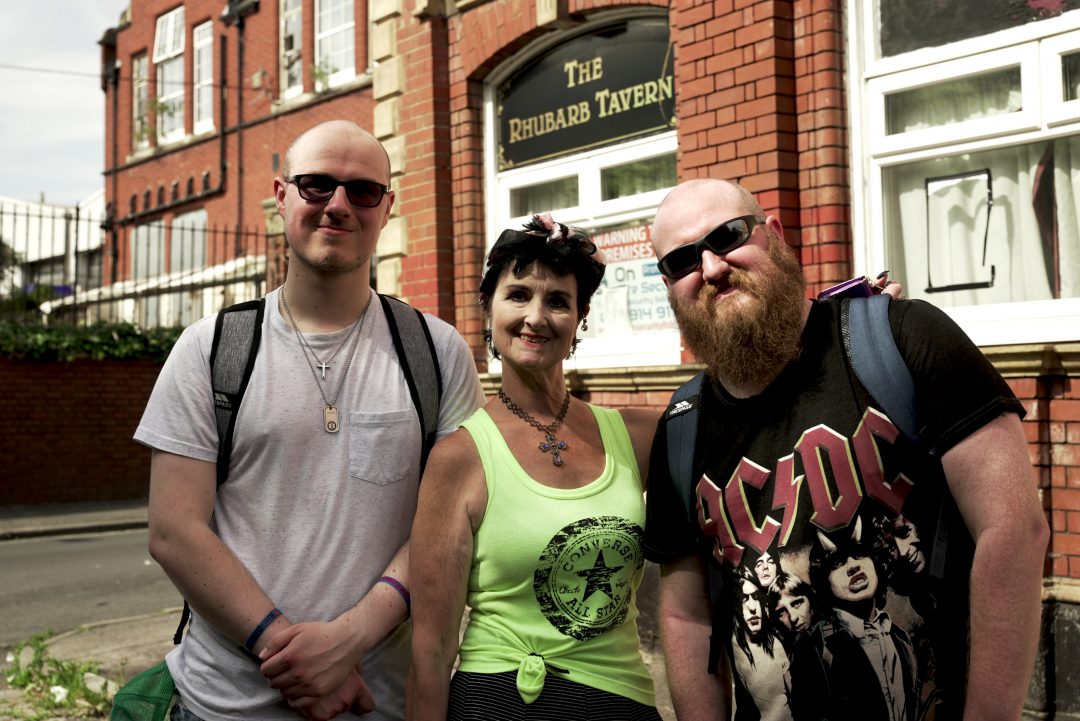 "What have you in the Rhubarb alongside, of course, being a pub, is a community kitchen, music space, what have you," he adds. "These are the sorts of things that we've talked about before."
Alexander says one of Tara's aspirations – to open a pottery studio in part of the large back kitchen – "fits wonderfully with the history of the site, bearing in mind that there used to be a pottery next door". The keen local historian even finds positives in the damage inflicted on false ceilings, which have exposed two Victorian ceiling roses in the space above.
"It's fascinating seeing the things that have been hidden over the years that have been uncovered now, as a result of the the thieves doing all their poking and prodding around the building," he says.
Alexander is also emphatic about the need to keep the garden if at all possible. "The Lawrence Hill ward, which Barton Hill is part of, is a part of the city most affected by heatwaves because of the high-rise blocks, and also the lack of green space," he says. "Being able to maintain the pub's garden would benefit the whole area."
Making a success of a reopened Rhubarb, he adds, will depend on a number of factors – including making the space as accessible as possible for different uses by local groups, and communicating well with neighbours to ensure there are no disputes over noise. Alexander mentions a 'pay what you can afford' kitchen run out of the Wellspring Settlement as an example of the kind of initiative that could help bring residents across the economic spectrum into the pub.
Hitting the target
In the meantime, it's the prospective tenants of the pub who must make sure their finances stack up.
At the time of writing, the Save the Rhubarb Tavern crowdfunder was sitting just above £20,000, with a further £15,000 to go to meet the lowest of four targets set by Sunny and Tara.
This would ensure the main pub and bar area can reopen as soon as April next year, including a "basic" live music setup, the kitchen being brought back into use and upstairs rooms available for community use. Reaching £45,000 would pay for the proposed music and pottery studios to open, enabling workshops and lessons to get underway.
"There's already a group of people in Barton Hill who are really active and passionate about the Rhubarb, and that's a good sign," says Sunny. "We want to bolster that, give them their space back, and for those numbers to increase.
"We're very conscious of not wanting to run in, hijack the cause and make it our own thing," he adds "This community is made of lots of different groups of people – and trying to bring them together is going to be interesting."