Danny Lydon lost his dad in 2015, just before starting university in Exeter. Reflecting on being a student in an unfamiliar city at such a difficult time in his life, he now acknowledges he needed, but didn't feel able to seek, professional help for his mental health.
"It's hard for people to want to go and get that help. You need to feel comfortable, like you can trust the process," the 31-year-old says. "I come from a working-class background where you're just told to get on with it – stiff upper lip and all that."
Instead it was through rap music that Danny was able to process his loss. Writing songs allowed him an outlet for his emotions and thoughts. He says rap unlocked a level of introspection that helped him understand his need for support.
"Music helped me evolve from the person I was before [my dad] passed away, to the person I became in reaction to losing him, to the person I am today," he says. "I really wish I'd found an outlet sooner for what I was going through."
After graduating, he moved to Bristol to try and make it as a rapper. And it's here that he came across Seed Sessions – a project that offers counselling, mentorship and studio time to male musicians.
I caught up with Danny and the group's founder, Isie Potter, to discuss how Seed Sessions is helping build a community of emotionally literate male musicians, and how music works when words fail: as a tool for therapy and communication.
Building a community
Suicide is the leading cause of death of men under 50, and three-quarters of suicides each year are are male. Research also shows that musicians specifically are three times more likely to suffer from depression.
"I read that statistic and I was trying to just think about why they might be more prone to [depression], and there's a massive list of reasons," Isie says. "I suppose it's something I noticed among my male musician friends in particular – like, really poor mental health."
She says musicians are often paid unfairly, sometimes in drinks, or they work for free on the promise of 'exposure'. Financial instability, coupled with a lack of routine, unsociable hours and the touring lifestyle, "can be a recipe for poor mental health".
All the mentors at Seed Sessions, she says, have had a personal experience that brings meaning to the project. In particular, they were all friends with Toby Seed, a guitarist who took his own life in 2018, and who Seed Sessions is named after.
The name also has metaphorical significance, Isie adds, with the idea being the project "provides the seed with the right environment and conditions to nurture its growth".
The community interest company does this by offering male musicians fortnightly counselling sessions, spread over three months, a music mentoring session every month and a day spent at Redcliffe's dBs Pro recording studio.
It's a relatively small project – five men will make up the next cohort – but Isie says the community around the group is growing, with participants becoming role models for those that follow them.
"We're trying to build a community in which people can be vulnerable and feel understood," she says. "Community's a really big part of it. It's not about someone just giving or receiving support, in the end it's about everyone supporting each other."
The ripple effect
As a woman, Isie says at first she questioned whether it was right for her to start up and lead a project aimed at men. "The project is for men and male-indentifying musicians," she says, "but ultimately the reach is far, far wider than that.
"I've often thought, 'Oh, should I be doing this because I'm female?'," she says. "But actually, I've been affected by the mental health of men in my life – men's mental health impacts everybody."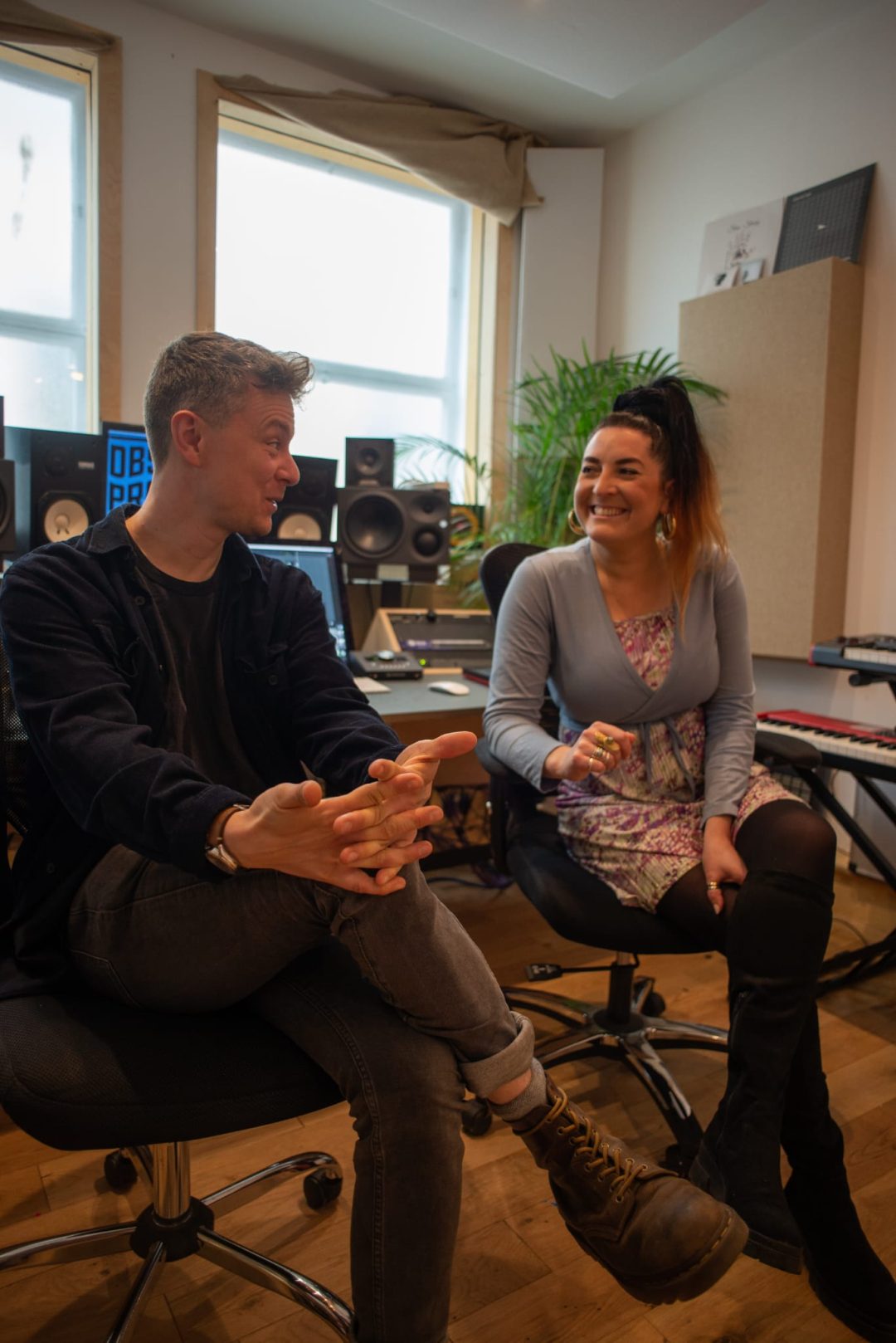 She says she's received messages from the mothers or partners of Seed Sessions participants, saying that the improvement in wellbeing they've seen in their loved one has had a subsequent impact on them. "There's a ripple effect," Isie says.
If someone dies by suicide, has depression, is struggling with poor mental health, she says, "it impacts so many people. And if someone's suffering, it's all our responsibility to help. It's not just down to men."
In the face of struggling, underfunded mental health services, a reluctance from some men in particular to seek help, Danny adds, projects like Seed Sessions can be a lifeline.
He says the group played a big part in helping him build his own network: "Everyone has music in common, like a common goal. We're all here to support each other and, yeah, it's really positive."
Asked how he found the counselling sessions, Danny says: "Talking things over, even small things, can have such a big impact, and to be honest I come out [of some sessions] and just feel like I had a new lease of life."
'A safer way to communicate'
Tim Anderson is a counsellor at Seed Sessions. He says the sessions, which like the music mentoring are held over Zoom, provide participants with a safe space to help men express and understand their feelings.
They help get men talking, showing them there's a place they can get support when they need it, he says, "and the more people feel they can reach out and work through whatever's troubling them, that's going to be good for society as a whole".
While his counselling sessions focus on verbal communication, Tim, who also makes hip-hop beats, says there can be times when it's "challenging, or not possible" for people to express themselves in words. And that's when the music mentoring sessions and the studio time comes in.
"If you're always focusing on pain and trauma, that can be challenging," he says. "Music is another way to help you move through some of your emotions, externalising your feelings so they don't just circulate internally and create issues.
"Particularly when you express yourself verbally, you might be scared of judgement or being rejected," he says. "Music can feel like a safer way to communicate… with it you can express the whole spectrum of emotions, either through performing, writing or listening.
"It has a unique place in the human experience."